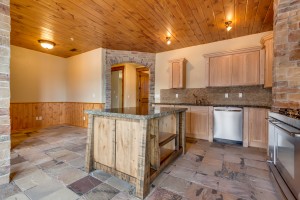 Every great kitchen starts with great design. Whether you favor contemporary or traditional styles, kitchen trends today draw inspiration from global sources. You can incorporate all sorts of different cultural influences from around the world while balancing the practical needs for your mountain lifestyle in McCall. To add worldly flair to your kitchen, start by:
Getting Fancy with Flooring
Certain materials establish a regional look because they are widely available in that region. In India, where quarries make natural stones easily affordable, kitchens commonly feature floors of glossy marble or other stone. Ceramic tile is abundant in Spain, and a wide variety of styles are available to create the underpinning for any regionally-inspired kitchen design.  In McCall where lumber is abundant many home feature wood flooring.
Paving the Way with Walls
Kitchens around the world have signature design elements when it comes to walls. Wood paneling is a hallmark of English country kitchens, while modern Japanese kitchens, which are often limited in space, are made to look larger with walls of floor-to-ceiling windows. And arches and bright tile accents lend themselves to Mexican design.  Open floor plans are trending in mountain towns like McCall.
Opening Up with Cabinetry
The material and color you choose for your cabinets will play a defining role in the overall appearance of your kitchen. Flat white or frosted glass doors can impart a very modern, European flair, while distressed woods in rustic hues create a Tuscan effect.
Coloring Your World
Specific colors are tied to certain world cultures, regions and locations – walls in a soft mandarin paired with burgundy window treatments can build an Asian-inspired backdrop, and Aegean blue and sand backsplash tiles speak of a subtle Mediterranean influence.