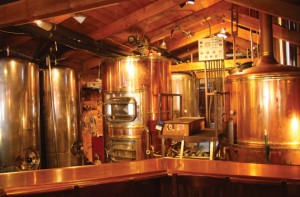 The McCall Brewing Company has had a bit of a renaissance in the last year or so.  The brewery has long been a tradition for many tourists visiting McCall.  Since opening its doors in 1994 the pub has been through a  couple owners, but current owner Louis Klinge along with his head brew master Edgar Newstadt have turned the beer and pub around 180 degrees.  They brought back brewer Thom Tash who had brewed at the brewery in the past but has also brewed for 10 Barrel, Barley Brown and Kona.  Tash brings big brewery experience to the table and has helped the brewery forge forward into bottling and distribution.  With new brewing equipment, a love of beer, and using only natural ingredients these three have brought us some delicious beers.  Some favorites being the Lemon Ginger Hefeweizen, Wobbily Man Smoked Scotch Ale, and the Coconut Porter.  
McCall Brewing has a very rustic feel, mountain lodge meets sports pub. The large brewing fermenters are located at the back of the large  L shaped bar which gives the costumer an intimate feel for the beer making process.  This is a full service restaurant that is open every day for lunch and dinner. They have seven screens for sports and have become a favorite place to watch Monday Night Football. The gem of the dining experience is the roof top deck.  In the summers, and late spring the deck opens for diners to enjoy burgers & beers  while taking in the incredible view of down town McCall, Payette Lake and the backside of Brundage Mountain.
A couple things that we feel make McCall Brewing Company special is that during the shoulder season they give locals a great happy hour deal of $1 beers once a week.  We also appreciate their growler specials.  They will choose a beer and for a limited time you can get a full brand new growler for $12.00.  If you haven't been to McCall Brewing Company lately we suggest you get in and enjoy a pint or pick up a bottle at Paul's Market.