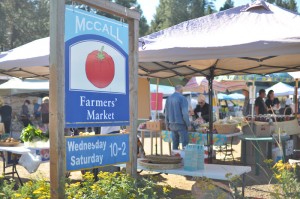 The McCall farmers market just opened for the summer last week.  We are fortunate to have this little market two times a week from early June through October or when the snow starts to fall.  It may be small, but there is an abundance of locally grown produce, herbs, and meats.  The market also has a variety of baked goods, homemade jams, and other delicacies.  The McCall Farmers' Market is located in Downtown McCall on Pine Street.  The market is open Wednesdays & Saturdays from 10 am to 2pm.
McCall is a resort town, so the market is busier on Saturdays.  Locals tend to hit the market on Wednesdays.  The mid-week market has fewer venders, but is less crowded.
It is not just food and produce that can be found at the market. You can find artists, jewelers, craftsman, musicians and natural beauty products. The Farmers' Market is an outlet of creativity and expertise.  Our local farmers market is a special place for the whole family…even the dog! The market is a place where the community gathers.  By shopping at our farmers' market we are making a healthy choice and we are supporting local and sustainable agricultural systems.
Our local market gives our community the opportunity for social, nutritional, and educational growth.  Socially, you can meet and mingle with your neighbors or simply just people watch.  Educationally, you are able  to  diversify your knowledge of local food, growing seasons, and try new products.  Nutritionally, you are able to buy  the freshest of local organically grown produce, meats, and eggs.  
If you haven't been to our farmers' market before we suggest you get there early, make sure you buy some tamales, and check out some local delicacies like morel mushrooms or huckleberries.