Affordable Ski Town Living found in McCall
If you like to ski in the winter and wake board in the summer, you might enjoy a house in a resort town.  You don't need to filthy, stinking rich enough to buy in Snowmass Village where the average median list price is $1,104,354 or in Aspen for $2,316,250 .  Just maybe you're rich, but a total cheapskate. Have we got the place for you?  
VALLEY COUNTY IDAHO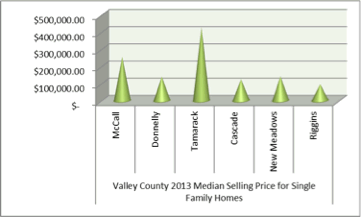 The Western Mountain Resort Alliance or WWMRA did a study in 2013.  They researched resort town to find the top most affordable ski towns to buy a home in.  
Their top picks just using median price of single family homes were; Park City: $415,000, Whistler, BC: $640,000, Sun Valley: $302,500, Vail: $415,000, Lake Tahoe: $233,000.  One Idaho resort town made the list, but ours is now where to be found.  So I decided to do my own comparison.   The 2013 median price of single family homes in and around Valley County are as follows; Tamarack: $425,000.00, McCall:  $255,000.00, New Meadows: $141,750.00, Donnelly: $139,500.00,  Cascade: $125,000.00, and down by the mighty Salmon River in Riggins: $95,000.00.  As you can see, some areas match up pretty well to our counter parts and some areas are significantly lower in price.  There is a price range for every budget here in the West Central Mountains.  
These numbers are very good across the board for homeowners looking to sell, and to buyers looking for a new home.  The prices have bounced back to healthy pre-bubble levels. According to The S&P/Case-Shiller home price index the median home price rose 12.1% in 2013.  
Now is the time to find your oasis in the mountains. Sure McCall isn't quite as sexy as Vail, or swanky as Sun Valley, but we sport an accessible laid back style that those other places can't compete with. Come see what you're missing, you might never want to leave.