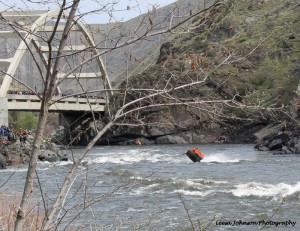 Each spring residents of Valley, Adams, and Idaho counties flock to the West Central Mountain's banana belt to party, camp and enjoy the warm weather. Riggins, Idaho is the white water capital of Idaho and home to three of spring's most anticipated events. The Jet Boat races happen each year on the third weekend in April and are a welcome retreat from winter.
This year's event didn't disappoint. The weather was perfect; we had sunny skies and warm temperatures. The race takes place on the Salmon River between Island Bar and Lightning Creek. Most spectators enjoy watching the race down at Time Zone Bridge. Time Zone is known for its wave train of rapids. This rapid has been known to send boats flying. Last year a boat sank and this year a boat ran aground making its way back up river through Time Zone. The boats are not the only form of entertainment; Shorts Bar provides the circus that surrounds the boat races. Think about in field camping and tailgating at a NASCAR Race…That's what Short's Bar offers. The difference is you are camped out on the shores of the Salmon River and its white sand beaches not some stinky, hot field full of exhaust. Camping at Shorts, be prepared for a full night of partying. For a more laid back and quiet camping experience head up river there are numerous camp spots to choose from the are quiet and right on the water.
This year's race consisted of 14 boats, entered into 4 classes. They had the Unlimited Class, Turbine "A" Class, CX Class, & the FXV/FX Class. As a spectator you can only tell the difference when a turbine class boat goes speeding by. Those turbine motors are loud and powerful. If you have never experienced the thrill of a jet boat race we suggest you make this event part of your Idaho experience.
We may not have a NASCAR Race in Idaho but who needs that when you have fast boats on one of the most beautiful rivers in the country. This is NASCAR Idaho style.