All ski town's boast a quarky brew pub, where locals and visitors alike migrate after a long day recreating to knock back a cold one, grab some grub, and hang out.  In McCall, that place is Salmon River Brewery.   Salmon River Brewery has a laid back vibe, friendly staff, a great lounge area, and a fire pit out front.
Known to locals as SRB, This local favorite used to be tucked away on a side street but recently moved locations and is now right downtown. The change in venue has helped to make SRB the most hoppin' joint in town.  On any given night you are sure to find a friendly crowd socializing over a cold handcrafted micro beer.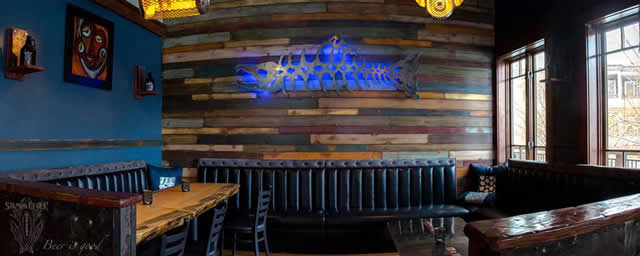 SRB has a number of flagship ales always on tap, and a selection of rotating seasonal beers.  Their flagship beers include;  Udaho Gold, PFD Pale Ale, Salmon River Quiver IPA, and Buzz Buzz Porter.
Salmon River Brewery was founded in 2008 as partnership between 2 married couples: Matt & Jennifer Hurlbutt and Matt & Ellen Ganz.  About 2 years ago,  Adolphus Busch came to Mccall for a rafting trip with his family and was introduced to the flagship beer Udaho Gold and to Matt Ganz.  So impressed with the Udaho Gold,  Mr. Busch who is the son of legendary Anhesur-Busch CEO Gussie Busch Jr. joined the SRB team as a minority stake holder. Mr. Busch is said to love the beer, and trusts the vision and dream of founders Matt Ganz and Matt Hurlbutt.
Even with the success and the growth of SRB over the past 6 months, it still maintains the charm and easy going vibe it always had.   Just now, you can head over on any given night at happy hour and find a crowd of friends to hang with.  It's the place in town where, everyone knows your name.