Curb Appeal is Your Home's First Impression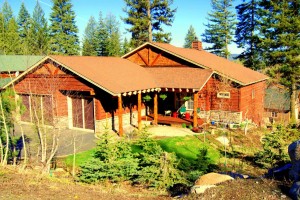 The snow is melting in McCall and with every inch it recedes it leaves us a little more to clean up.  Living in the high country we get the winter off from maintaining our yards and exteriors of our homes.  During the winter our home improvement projects get buried in the snow and we get to pretend all is good with our yards.  But in the spring all is revealed to us and we can no longer bury our heads in the snow.   Spring is time for cleaning and time to put our homes on the market.  Summer in the high country is home selling and buying season.  
You house's curb appeal will either invite potential buyers in or send them running to another home. We clean our houses interiors on a regular basis, think of your  yard as a just another living space to clean.  For most of us sprucing up our homes curb appeal is just a matter of cleaning up after a long winter.  
Here are some simple chores to add to your spring cleaning list to improve your home's curb appeal.
Wash the windows.  The windows are the homes eyes to the world.  Make sure they are crystal clear and sparkly clean.
Clean up the landscape.  Make sure all flower beds are fresh and clean. Prune old growth, pull weeds, plant some new flowers, and add new mulch to restore color and add nutrients to the soil.  This will ensure the perennials will come back to life healthy and happy.  Lawns should be mowed, no doggie surprises should be present, and keep all yard tools including hoses in their proper places. 
Keep your kids toys picked up and put away.  When a yard is clear of toys and clutter, a potential buyer will think that you have lots of storage. 
Dress up the entry way. Our homes entry ways should reflect our homes interiors.  Your can update and brighten your entry way with a bright colored door, new hardware, new lighting, or a new custom wood door. Another way to make your entry way more appealing is to create perfect symmetry. Symmetry is very pleasing to the eye and is easy to achieve.  Symmetrical composition of light fixtures or potted plants can create a welcoming entry way.
Freshen up the trim.  If you don't have the time to re-paint your whole house, a fresh coat of paint on the trim will brighten the whole home.  
Re-stain the fences, deck, and wood walk ways.  Our harsh winters make our decks look drab.  Adding a fresh stain adds rich warm tones back into the wood and protects your wood work from weather.  
"You'll never get a second chance to give a first good impression."
This is especially true for real estate.  A potential buyer might just drive right past your home if they think it looks unmaintained.  It's not just about making your home look good, it's about giving people the assurance that your home is maintained and not in ill repair.  With spring slowing waking up and the snow beginning to melt away, it's time to get out there and get your hands dirty tackling those much forgotten outdoor chores.  Happy Spring Cleaning Everyone.