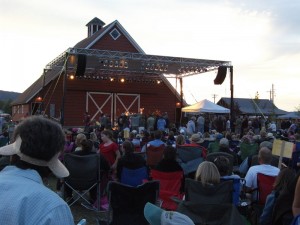 This weekend is the Summer Music Festival at Roseberry, Idaho.  Or, as locals call it, the Roseberry Music Festival. This annual summer music festival is produced by The McCall Folklore Society.  Every year for almost 4 decades, great artists and musicians have traveled here from all over the country to perform in Donnelly, Idaho at historic Roseberry.
The festival started over 30 years ago as a result of the effort of a local band, self-named Raggle-Taggle Hippies. This band of music makers loved music and family-type gatherings and wanted to share this type of event with their community.  The country charm of this event lends to a very family-friendly atmosphere that encourages personal freedom, expression, and responsibility. 
This music festival is a summer favorite for locals and visitors.  The laid back atmosphere and good music lend to a remarkably good time for all that come to hear the music and dance under the stars.  The venue boasts an old red barn as the stage back drop and 360 degree mountain views.  Each night of the festival, music lovers can witness the natural light show of specular sunsets as they jive to the music.   
The music festival runs for three nights Thursday July 17- Saturday July 19.  And each night has a theme.
Thursday Night is Local's Night
Friday night is String Night
Saturday night is World & Rock Night
Tickets can still be purchased at these locations around McCall:  Paul's Market, Bistro 45, Crusty's Pizza, McCall Drug, Umpqua Bank, US Bank & The Roseberry General Store.
Or you can purchase your tickets on line. http://thesummermusicfestival.com/site/buy-tickets/
This is the one music event you really don't want to miss.  It is an event that you will keep coming back to year after year.